New Value-Added Tour Package for the Great Wall of China Marathon 2019(September 16, 2018)
Code Number:GWCM2019-001

A.Beijing-Tibet/Flight


Great Wall of China Marathon:8-day Package
April 29-May 6,2019

Total:$1866.00

Day 1(Mon/April 29):Arrive in Beijing.
Fetch you at Beijing Capital International Airport to the hotel. Overnight at 4-star Shenzhou(Beijing) International Hotel.

Day 2(Tue/April 30):Hotel Breakfast.Visit Forbidden City and Tiananmen Square in the morning.Course Explanation Meeting at the hotel Conference Room,Hand you the race bag.Overnight at Shenzhou(Beijing) International Hotel.

Day 3(Wed/May 1):Breakfast. Later special buses leave the hotel for the Great Wall for the Great Wall of China Marathon 2019. Light Lunch at the Great Walls. Tremendous celebration party would be held for all the participants,and the medals and the certificates would be also awarded to all the participants on the Great Walls. Bus back to the hotel from the Great Wall. Overnight at Shenzhou(Beijing) International Hotel.

Day 4(Thu/May 2):Hotel Breakfast.We would be accepted by the Tibetan guide at the airport with the Tibetan rituals HADA.We would be send to the hotel at Lhasa.We are required to take the enough rest at the 3-star hotel.Dinner in Lhasa.

Day 5(Fri/May 3.2019):Potala Palace,Jokhang Temple and Barkhor Street.
After the breakfast,we go to visit Potala Palace,winter palace of the Dalai Lama since the 7th century, which symbolizes Tibetan Buddhism and its central role in the
traditional administration of Tibet. In the afternoon,we visit Jokhang Temple,which is the the most sacred and important temple for Tibetan. The two statues of the
Buddha brought by Princess Wencheng were worshipped here.Later,we visit the Barkhor Street.Each day hundreds of Buddhist pilgrims flow in from every corner of Tibet
and across China to make the trek through Barkhor Street,the Tibet's "Sacred Way".

Day 6(Sat/May 4.2019):Namtso and Yangbajing
In the early morning,we leave for Namtso(Heavenly Lake),around 190km northwest of Lhasa.En route,we would be able to enjoy the Lhasa River,the broad prairie of north
of Tibet,Qinghai-Tibet Highway.While we visit the beautiful and sacred lake,we can enjoy the Nyenchen Tonglha Mountains(7162metre) afar.In the afternoon,we visit the Yangbajing,hotspring site surrounded by the snow-capped mountains.You can take the hotspring bath there with your own swimming suit,then you would get relaxed.Then back to Lhasa.

Day 7(Sun/May 5,2019):Lhasa-Beijing
Morning flight from Lhasa to Beijing,arrive in Beijing in the afternoon.Free activity in Beijing.Have dinner at Weigongcun food street.Overnight at Shengzhou(Beijing)
International Hotel.

Day 8(Mon/May 6.2019):Hotel Breakfast.Visit Chinese style Zizhuyan Park.Check-out before 2PM.
See you off at Beijing Capital International Airport.Then you flight back to your country.


About the Package
1)You will be on the tours with the other world participants.
2)Two persons share one hotel room, Single Occupancy $414.00USD.
3)English-speaking guides in Beijing and in Tibet.
4)Registration fee $250.00USD of the Great Wall of China Marathon 2019 included.
5)The air tickets between Beijing and Lhasa are included.
6)Breakfast,Lunch and dinner are included.
7)All the transportation and the entry fee to every scenic spots are included in the tour package.

Please sign up via the Online Application,and write the code number in Comment.
http://www.greatwallmarathon.com.cn/application2019.htm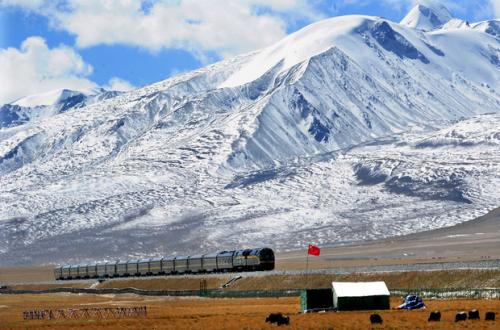 Code Number:GWCM2019-002

B.Beijing-Tibet/Train


Great Wall of China Marathon:8-day Package
April 29-May 6,2019

Total:$1698.00

Day 1(Mon/April 29):Arrive in Beijing.
Fetch you at Beijing Capital International Airport to the hotel. Overnight at 4-star Shenzhou(Beijing) International Hotel.

Day 2(Tue/April 30):Hotel Breakfast.Visit Forbidden City and Tiananmen Square in the morning.Course Explanation Meeting at the hotel Conference Room,Hand you the race bag.Overnight at Shenzhou(Beijing) International Hotel.

Day 3(Wed/May 1):Breakfast. Later special buses leave the hotel for the Great Wall for the Great Wall of China Marathon 2019. Light Lunch at the Great Walls. Tremendous celebration party would be held for all the participants,and the medals and the certificates would be also awarded to all the participants on the Great Walls. Take shower at the finish line of the Great Wall.Bus back to Beijing Western Railway Station from the Great Wall.Take train at 20:00. Overnight on the train.

Day 4(Thu/May 2):The high altutude train goes west China passing Shijiazhuan,Taiyuan,Zhongwei,Lanzhou,Xining,Delingha,Germu and Naqu.You would best enjoy the breathtaking landscapes of western China along the 3,757KM railway.Overnight on the train.

Day 5(Fri/May 3.2019):Arrive in Lhasa at 12:40.Accepted by the Tibetan guide at Lhasa Train Station with the Tibetan rituals HADA.
Go to visit Potala Palace,winter palace of the Dalai Lama since the 7th century, which symbolizes Tibetan Buddhism and its central role in the
traditional administration of Tibet.Later,we visit Jokhang Temple,which is the the most sacred and important temple for Tibetan. The two statues of the
Buddha brought by Princess Wencheng were worshipped here.Later,we visit the Barkhor Street.Each day hundreds of Buddhist pilgrims flow in from every corner of Tibet
and across China to make the trek through Barkhor Street,the Tibet's "Sacred Way".Overnight at Lhasa.

Day 6(Sat/May 4.2019):Namtso and Yangbajing
In the early morning,we leave for Namtso(Heavenly Lake),around 190km northwest of Lhasa.En route,we would be able to enjoy the Lhasa River,the broad prairie of north
of Tibet,Qinghai-Tibet Highway.While we visit the beautiful and sacred lake,we can enjoy the Nyenchen Tonglha Mountains(7162metre) afar.In the afternoon,we visit the Yangbajing,hotspring site surrounded by the snow-capped mountains.You can take the hotspring bath there with your own swimming suit,then you would get relaxed.Then back to Lhasa.Overnight at Lhasa.

Day 7(Sun/May 5,2019):Lhasa-Beijing
Morning flight from Lhasa to Beijing,arrive in Beijing in the afternoon.Free activity in Beijing.Have dinner at Weigongcun food street.Overnight at Shengzhou(Beijing)
International Hotel.

Day 8(Mon/May 6.2019):Hotel Breakfast.Visit Chinese style Zizhuyan Park.Check-out before 2PM.
See you off at Beijing Capital International Airport.Then you flight back to your country.


About the Package
1)You will be on the tours with the other world participants.
2)Two persons share one hotel room, Single Occupancy $378.00USD.
3)English-speaking guides in Beijing and in Tibet.
4)Registration fee $250.00USD of the Great Wall of China Marathon 2019 included.
5)The air tickets between Beijing and Lhasa are included.
6)Breakfast,Lunch and dinner are included.
7)All the transportation and the entry fee to every scenic spots are included in the tour package.
8)On the train,it is sleeper for everyone.

Please sign up via the Online Application,and write the code number in Comment.
http://www.greatwallmarathon.com.cn/application2019.htm
 
We work 24 hours every day,If you have anything unclear during your registration,please feel free to write to us,and we would immediately reply you.
run@greatwallmarathon.com.cn

Official Site:
http://www.greatwallmarathon.com.cn/

Please visit the social media for more update info.
http://www.facebook.com/yifan.zhu.946
Follow us on

Guihua Zhu Follow us on

Great Wall of China Marathon(GWCM)

Greatwall Marathon
Thank you very much,all the world runners!