The Leading Actor/Runner at Guilin Marathon 2016 Promotion Video(January 19,2016)
Today Mr.Isumi Nakai, bought the round trip tickets to Guilin for the Promotion Video of Guilin Marathon 2016,which we woulld film along the Li River by the end of this month.
Mr.Izumi Nakai is a Japanese runner from Kyoto Japan,and he is one of the world runners who ran the Great Wall of China Marathon on May 1,2015.
On October 11,2015,Mr.Izumi also ran the Guilin Marathon,and Mr.Izumi is one of the very active runners in many marathon worldwide.He himself is much attracted by the charm and the beautifulness of Guilin Marathon last year.When he got to know that we would film the Promotion Video.He applied to be the main runner in the Promotion Video of Guilin Marathin 2016 without doubt.
It is very difficult to discribe how attractive the Guilin Marathon would be,and we would like to say firmly that if you would like to come to join the Promotion Video by the end of this month,you would forever forever love Guilin Marathon,and it would be one of the best marathon experience in your life!If you do expect,please let us know at
If you apply to run Guilin Marathon to be held on October 9,2016 now,we would have a very surprising good gift for you!And here is the Online Application.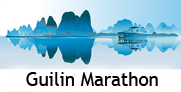 Mr.Izumi Nakai would be the first runner who run the three unique marathons in China.We are the Organizers and Race Directors of the three marathon races.And here are the Official Online Applications of the Roof of the World Marathon,which is the highest altitude marathon in the world!

We as well welcome you to the 15th Great Wall of China Marathon on May 1,2016,one of the most breathtaking,dramatic and difficult marathon on the planet:

If you have any questions during your sign-up,please feel free to write email to us below.Thank you all very much from all our hearts for your greatest support!
Beijing Hotline:+86-15101680346

 

---The Previous News---

Please Contact for the details:

greatwallmarathon@yahoo.com greatwallmarathon_japan@yahoo.co.jp

Our Official websites in Beijing: http://www.greatwallmarathon.com.cn/

Our supporting website in Tokyo Japan