A Singapore Runner to the Great Wall of China Marathon 2016(January 7,2016)
This is the first piece of news in 2016 about the 15th Great Wall of China Marathin to be held on May 1,2016.And from today,we would begin to introduce our worldwide runners regularly.Our runner today is Mr.Lee Kah Wang from Singapore.
Mr.Lee submitted the Online Application of Great Wall of China Marathon 2016 on the afternoon of January 3,2016.He is just 28 years old,Mr.Lee has completed 18 marathons,and his best result is 4:09 at Changmai Marathon on December 21st,2014.
On January 5,2016,Mr.Lee made the application fee 250USD payment to us at our paypal account.Mr.Lee is the first one to win the free 5-star hotel room at Nikko New Century Beijing,which is not far away from the official hotel-Shenzhou(Beijing)International Hotel.
Some runners wrote to us about this free hotel,if you would sign up any time from today till the Friday January 8,2016,we would still be able to offer you the free hotel rooms.For all the runners who applied earlier would all get the surprisng good gift during the Chinese Spring Festival in February 2016!
For running any of the following three unique marathons in China,please fill in and submit us the following Online Application.
And here are the Official Online Applications of the Roof of the World Marathon,which is the highest altitude marathon in the world!

We will shoot and make the Promotion Video of Guilin Marathon 2016 by the end of this month.Please click the banner and sign up ,please.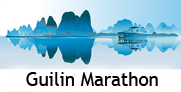 The 15th Great Wall of China Marathon on May 1,2016,one of the most breathtaking,dramatic and difficult marathon on the planet:

If you have any questions during your sign-up,please feel free to write email to us below.Thank you all very much from all our hearts for your greatest support!
Beijing Hotline:+86-15101680346

 

---The Previous News---

Please Contact for the details:

greatwallmarathon@yahoo.com greatwallmarathon_japan@yahoo.co.jp

Our Official websites in Beijing: http://www.greatwallmarathon.com.cn/

Our supporting website in Tokyo Japan