A Best Selected Tour for Runners to Guilin Marathon 2016(October 12,2015)
Guilin Marathon 2016 would be held on Sunday October 9,we are also the Top Organizer of Guilin Marathon.and today,we release a best-selected tour for our runners.
5 Days and 4 Nights: Guilin/Guiyang/Huangguoshu Waterfall/Kaili/Xijiang Miao Village
Feature:The magnificent waterfalls,the most tasty local cuisines,back to the nature!

D1(Mon/October 10):Morning express train to Guiyang,afternoon visit Qingyan Ancient Town.Enjoy the very delicious Guiyang cuisine at dinner.Overnight at Guizhou Minority Grand Hotel.
D2(Tue/October 11):Visit the spectacular Huangguoshu Waterfalls,the largest in Asia.Overnight at Guizhou Minority Grand Hotel.
D3(Wed/October 12):Morning express train to Kaili,then bus to Xijiang.Enjoy the most delicious Sour Soup Fish at lunch.Enjoy the local dance,strolling around the largest and the most beautiful Miao Village in China.Overnight at Xijiang Local Guesthouse.
D4(Thu/October 13):Morning visit to a short-skirt Miao village and the musical instrument Lusheng Workshop.later afternoon train back to Guiyang.Overnight at Guizhou Minority Grand Hotel.
D5(Fri/October 14):Breakfast at the hotel.Take the express train,arriving in Beijing/Shanghai/Guangzhou the same day.

Price Offer:960USD
Good News:
* If you sign up the tour during October 12-16,2015,then early bird 50% discounted fee is 480USD . Or you can enjoy the single hotel room with the fee 480+168=648USD

About the tour
1)You will be on the tours with the other world participants.
2)Two persons share one hotel room, Single Occupancy 168USD.
3)English-speaking guides.
4)Tour Application Deadline: September 1,2016
5)The destination on the 5th day can be changed to any Chinese cities.
Here is the official Online Application of Guilin Marathon 2016: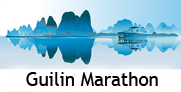 The Official Online Application of the Great Wall of China Marathon 2016:

We are also the Top Organizer of the Roof of the World Marathon.The official Online Application of the Roof of the World Marathon 2016:


ROWM:Two Itineraries for the Roof of the World Marathon on May 6 and May 8, 2016(June 18,2015)
If any of our world runners would have anything unclear or any questions toward the three unique marathon races in China,please feel free to write email to us,we reply you immediately.We work 24 hours every day and 7 days a week.Thank you all very much from all our hearts for your greatest support!
Beijing Hotline:+86-15101680346

 

---The Previous News---

Please Contact for the details:

greatwallmarathon@yahoo.com greatwallmarathon_japan@yahoo.co.jp

Our Official websites in Beijing: http://www.greatwallmarathon.com.cn/

Our supporting website in Tokyo Japan