Guilin Marathon:Expanding the Airport Pick-Up Service from Guilin to Guangzhou(July 11,2015)
Yes,as you know,if you apply to run Guilin Marathon on October 11,2015,you would get the very nice free hotel in Guilin on October 10,2015,and you would also enjoy the free airport pick-up on October 10 either at Guilin Airport or Guilin Railway Station on October 10,2015.
You would be directly picked up by our vans from the airport or the railway station to the hotel any time of the day on October 10,2015.
And this weekend on Saturday July 11 and Sunday July 12,2015,if you apply and also pay within the two days,you can fly to Guangzhou,and we can pick you up from Guangzhou Baiyun International Airport to the Hotel in Guilin.
But your flight must be any time between 8AM to 4PM on October 10,2015,but this is not a free service,it takes you about 50USD,this fee includes your train ticket from Guangzhou to Guilin,it would take you two or three hours on the train.We have our staff to meet you at the international airport in Guangzhou,and send you to the railway station in Guangzhou.
Guangzhou Baiyun International Airport is the third largest airport in China,and you can fly almost from any large world airports to Guangzhou.
After the Guilin Marathon on October 11,and if you need us to send you back to Guangzhou International Airport,that would be all right.It is also the same extra 50USD.This service can directly help you save about 200 to 300USD.
We open this service only to the runners who apply and pay on July 11 and July 12,2015.Of course,the runners still would get the free hotel in Guilin,please see our previous news here.
http://www.greatwallmarathon.com.cn/news1/news1705.html
For the other runners,who fly from Beijing,Shanghai,and any other Chinese cities to Guilin,and also who would like to take the train to Guilin,we would be waiting for you at Guilin Airport and Guilin Railway Station.
The Online Application is here: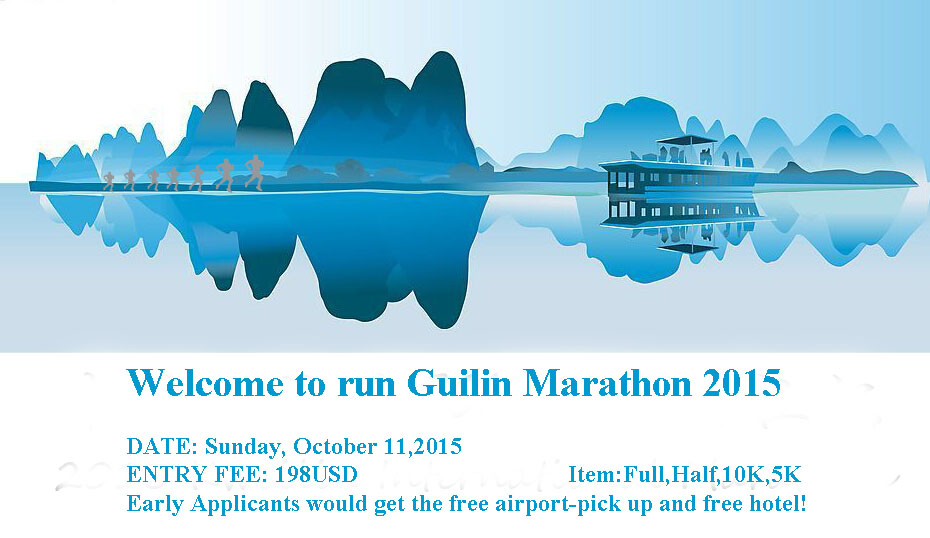 We are also accepting the application by overaeas and Chinese runners every day for the Great Wall of China Marathon 2016 and the Roof of the World Marathon 2016,that we are the organizer.
For your application,if you have anything unclear,please feel free to write email to us or call us.We work on Saturday and Sunday!Thank you all very much!
Beijing Hotline:+86-15101680346

 

And here is the Official Homepage of the Roof of the World Marathon(ROWM).

http://www.theroofoftheworldmarathon.com/index.htm

 

---The Previous News---

Please Contact for the details:

greatwallmarathon@yahoo.com greatwallmarathon_japan@yahoo.co.jp market@beijingglobalmarathon.com

Our Official websites in Beijing: http://www.greatwallmarathon.com.cn/ http://www.beijingglobalmarathon.com/greatwallmarathon/jp/index.html

Our supporting website in Tokyo Japan