The First Japanese to Guilin Marathon 2015(July 7,2015)
It is 7 :30 PM on July 7,2015 now,and about one hour ago,a Japanese runner in Kyoto has submitted the Online Application to us,and he would run the Guilin Marathon to be held on October 11,2015.
We told him that that would get a free hotel on October 10 in Guilin,that is one night before the race.And we also told him that we would pick him up either at Guilin Airport or Guilin Railway Station free of charge on October 10.And he would be offered the very nice Guilin breakfast free of charge at the Hotel on the race day.
We are the organizer of Great Wall of China Marathon(GWCM),and we become the organizer again of Guilin Marathon.Guilin Marathon is very different from the Great Wall of China Marathon,you would run along the most beautiful Li River in Guilin.Every runners would have a very pleasant time in Guilin.
If you apply now to run Guilin Marathon 2015,or the Great Wall of China Marathon 2016 or the Roof of the World Marathon 2016 today July 7 or tomorrow July 8,you would get much good and surprising reward!
Here are the Online Application of Guilin Marathon: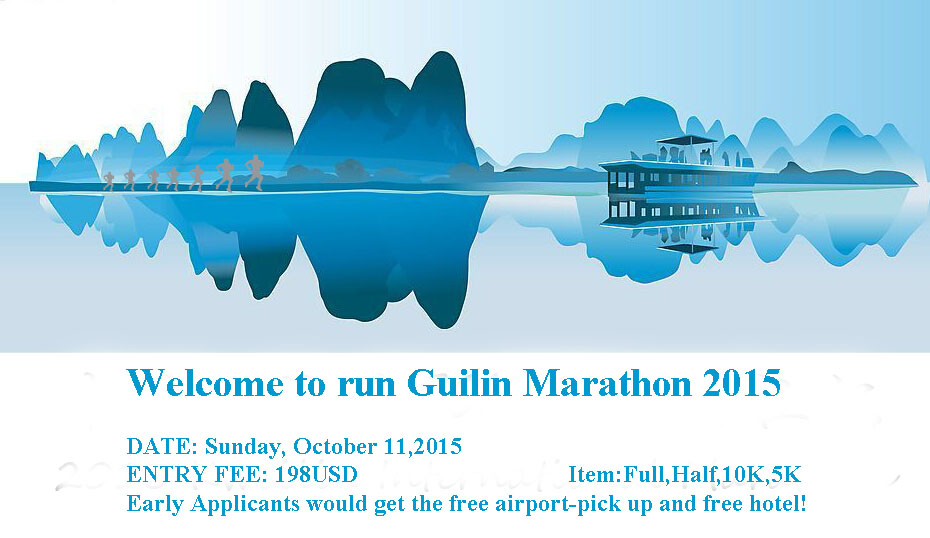 For the other two marathon races,please click the banners on the top or in the bottom for the application.
And if you have anything unclear,pease write email to us.Thank you all very much!
Beijing Hotline:+86-15101680346

 

And here is the Official Homepage of the Roof of the World Marathon(ROWM).

http://www.theroofoftheworldmarathon.com/index.htm

 

---The Previous News---

Please Contact for the details:

greatwallmarathon@yahoo.com greatwallmarathon_japan@yahoo.co.jp market@beijingglobalmarathon.com

Our Official websites in Beijing: http://www.greatwallmarathon.com.cn/ http://www.beijingglobalmarathon.com/greatwallmarathon/jp/index.html

Our supporting website in Tokyo Japan