Good News: Apply to run Great Wall of China Marathon 2015 NOW,Get a Camelbak FREE(March 6,2015)
On March 2,2015,we have announced to the world runners that we would use the new timing service for Great Wall of China Marathon on May 1,2015.

Champion Chip:Much More Convenience for all Runners(March 2,2015)New!
Today,we would like to share our consideration to change the hydration supply system for Great Wall of China Marathon on May 1,2015.
Carrying water to the Great Walls along the full marathon course is the most difficult work.Last year,as you know,each strong people we invited could carry only 4 cases of the water one day just to one point of a water station.We spent huge manpower to carry the bottle waters to the different part of the Great Walls,and when the race was over,30% of the water on the Great Walls had not been used up.We need to keep the Great Walls very clearn,and we hired many manpower again to take all the water down the Great Walls.
For Great Wall of China Marathon on May 1,2015,we want to offer a free camelbak to each runner,and we want to set up the huge water stations every 3 or 4KM along the Great Wall of China Marathon course.And the very valuable water could be best used by all runners.
The camelbak that we are planning to offer for every runners can hold 3 Litre water.The opening of the camelbak is very big,for supplying water into your camelbak during you run on the Great Walls,it would take about 10 seconds with the help of our staff along the course.
With the camelbak,you can drink any time when you want to drink,and if you are the one who would drink a lot of water,you can get enough from any water stations,and if you are a runner who would not drink much,you can just take the amount of the water you want.It would be another convenience for all our runners.
Apply now to run the Great Wall of China Marathon on May 1,2015,you would 100% get such a camelbak free of charge when you arrive in Beijing.And if we really decide to use the camelbak,we would offer you another wonderful gift of Beijing instead.
So please fill in the Online Application of Great Wall of China Marathon 2015 from here,and write in the Comment :Camelbak.
Below are the Applications for the 14th Great Wall of China Marathon on May 1,2015 and the 2nd Roof of the World Marathon starting from May 2,2015 and the Great Wall of China Marathon 2015 Tours.
You are also welcome to apply to run the Great Wall of China Marathon to be held on May 1,2016,if you are the runners that you feel that you could not come for the race this year.
We welcome you to apply any of them.We are the Chinese top organizer for both of the races.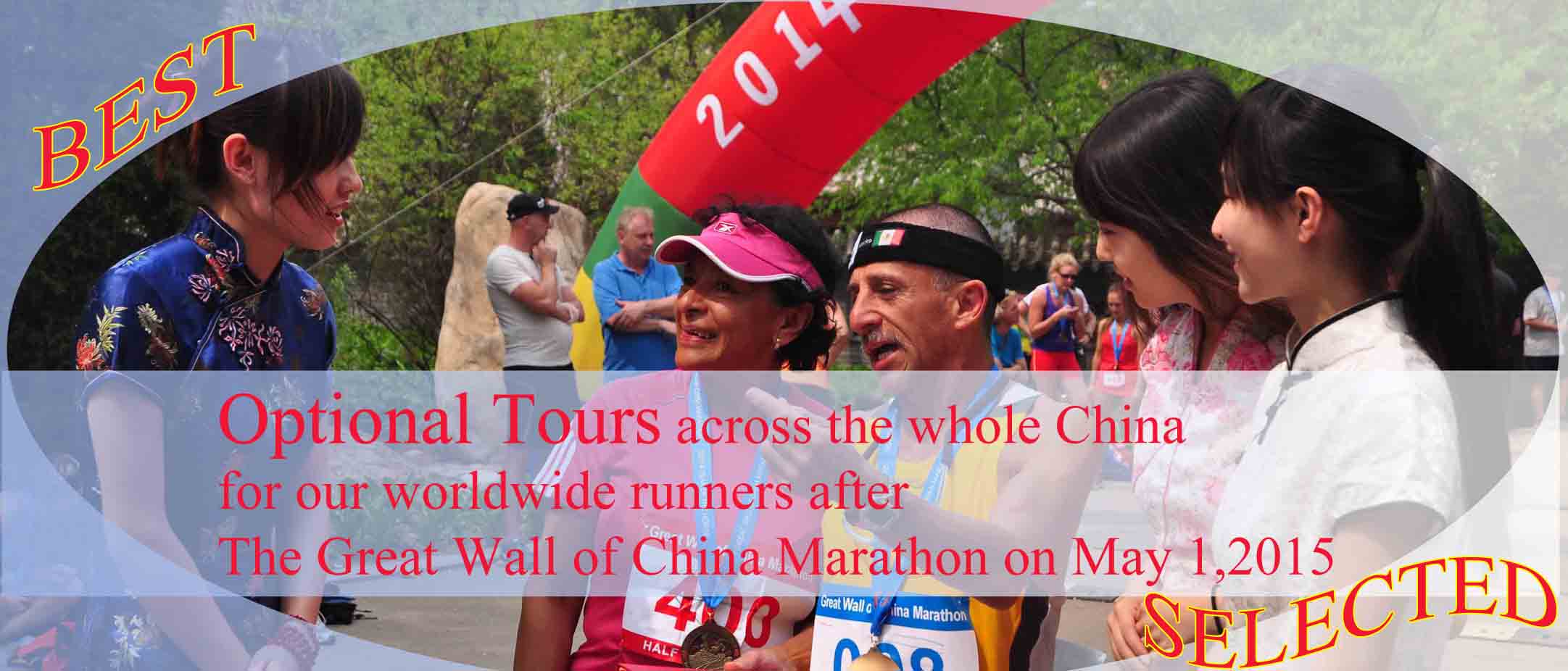 If you have any questions or anything unclear about the application,please feel free to write to us or directly talk with us.We work with French, English,Chinese and Japanese languages for you!We work 24 hours for you every day.
Thank you so much from all our hearts for your warmest application and your greatest efforts!Happy Chinese New Year 2015 to you all!
Beijing Hotline:+86-15101680346
The Official Homepage of the Roof of the World Marathon:
http://www.theroofoftheworldmarathon.com/index.htm
---The Previous News---
Please Contact for the details: greatwallmarathon@yahoo.com greatwallmarathon_japan@yahoo.co.jp market@beijingglobalmarathon.com
Our Official websites in Beijing: http://www.greatwallmarathon.com.cn/ http://www.beijingglobalmarathon.com/greatwallmarathon/jp/index.html
Our supporting website in Tokyo Japan http://www.greatwallrun.com