GWCM Working Base in Southern China from 2015(December 22,2014)
The year of 2015 is coming after 10 days.Great Wall of China Marathon(GWCM) to be held on May 1 always has Beijing as the working center,and it would be always the working center for the world every day.
We are very happy to tell the whole world that from 2015,Guangdong Province would become a very important working center in southern China for Great Wall of China Marathon to be held on May 1,2015 in Beijing and for the Roof of the World Marathon 2015 in Tibet.
The GDP of Guangdong Province ranks No.1 in China in 2013,and we still believe it would be ranking No.1 in 2014,the data would be announced by Chinese government in February 2015.And its GDP would still be ranking the Top 3 in the next 10 years or 20 years or 30 year in China.
We have already chosen the following top cities in Guangdong Province for overseas runners and Chinese enterprises and overseas companies to Great Wall of China Marathon 2015 and the Roof of the World Marathon 2015.
Guangzhou:It is the capital city of Guangdong Province. We can conduct the daily business talk any day and every day all year round in the city with our runners and partners.Guangzhou Baiyun International Airport is the 3rd largest airport in China,and you can fly from Guangzhou to more than 370 world destinations,this number dose not include all the destinations across the whole China.
Guangzhou has the direct buses and trains to Hongkong very very frequently every day.It only takes two hours from Guangzhou to Hongkong by bus or train.
Guangzhou is also a city that can easily radiate our business to Southeast Asian countries and the Oceanian countries.And Taiwan and the Phillipines are also in this easy range.
It is the winter now,and do you know the difference of the temperature tomorrow December 23,2014 between Beijing and Guangzhou?
Beijing: the highest: 8 degree centigrade, the lowest: minus 3 degree Centigrade.
Guangzhou: the highest: 17 degree centigrade, the lowest: 12 degree Centigrade.
So this is a warm city to welcome you!
Shenzhen:It is the special economic zone in China.It just borders Hongkong.It is only a bridge that links Shenzhen and Hongkong.You can just just walk pass the bridge from Shenzhen to Hongkong.
Zhuhai:It is also another special economic zone in China.It just borders Macau.A bridge links Zhuhai and Macau.
This new working base can also best serve the runners of the Roof of the World Marathon 2015 who would not return to Beijing,but would like to fly from Lhasa to Guangzhou and back your homeland!
Below are the Applications for the 14th Great Wall of China Marathon on May 1,2015 and the 2nd Roof of the World Marathon starting from May 2,2015 and the Great Wall of China Marathon 2015 Tours.We welcome you to apply one of them or both of them or three of them.We are the Chinese top organizer for both of the races.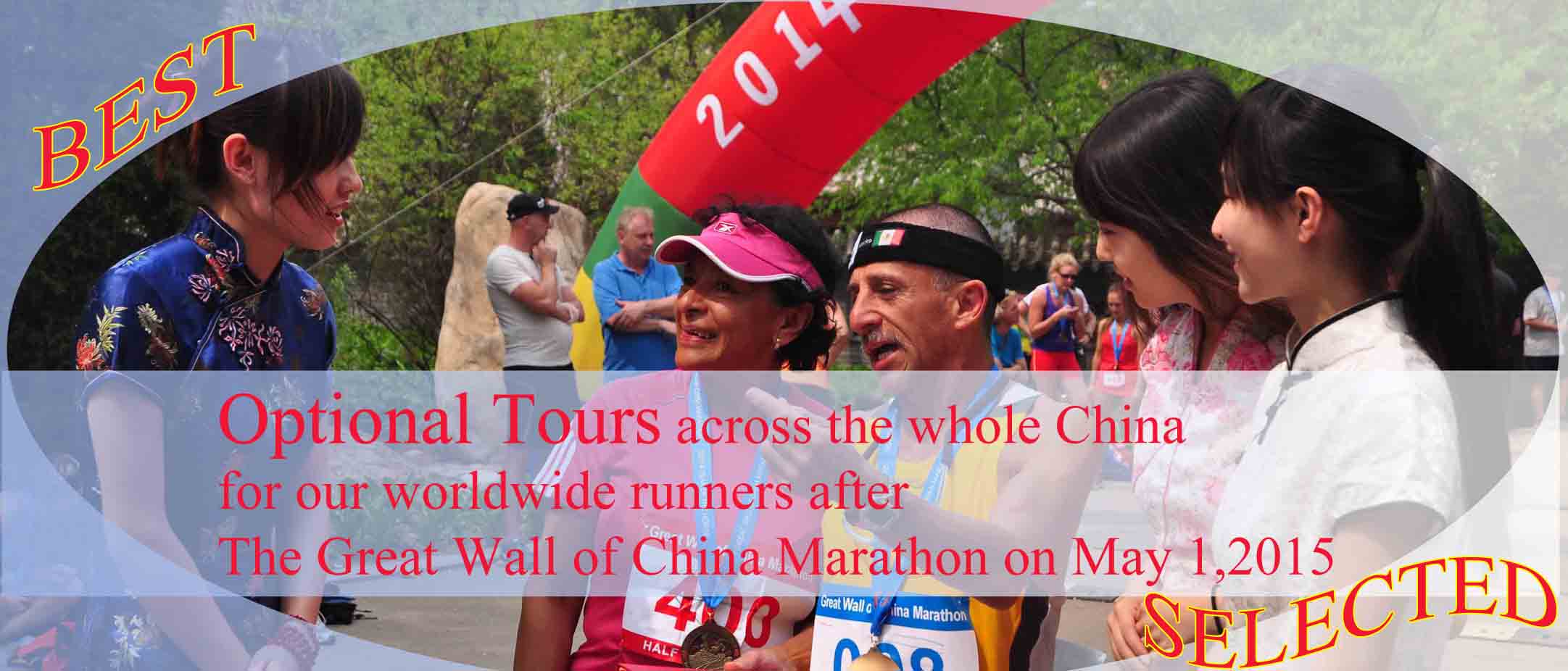 If you have any questions or anything unclear about the application,please feel free to write to us or directly talk with us.We work with French, English,Chinese and Japanese languages every day for you!
Beijing Hotline:+86-15101680346
Thank you all very much from all our hearts for all your greatest support and efforts.We work 24 hours every day.
Online Application for Great Wall of China Marathon 2015: http://www.greatwallmarathon.com.cn/application2015.htm
---The Previous News---
Please Contact for the details: greatwallmarathon@yahoo.com greatwallmarathon_japan@yahoo.co.jp market@beijingglobalmarathon.com
Our Official websites in Beijing: http://www.greatwallmarathon.com.cn/ http://www.beijingglobalmarathon.com/greatwallmarathon/jp/index.html
Our supporting website in Tokyo Japan http://www.greatwallrun.com